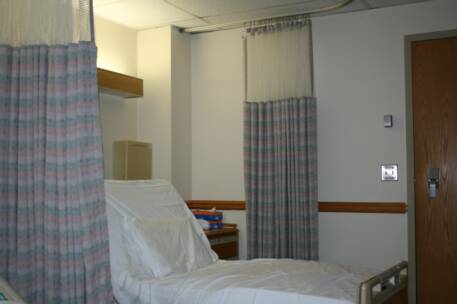 Providing Convienent Cleaning Solutions to your Facilities' Environmental Infection Control Issues.

  The Medical Industry faces immense challanges halting the spread of infectious bacterias such as MRSA, H1N1, C-Diff, and the NoroVirus. With curtains being one of the largest and most handeled  fabrics in each patient room, its important to keep them sanitized and free of stains.  Let us help minimize the threat of spreading inectious disease. We have been servicing Medical Facilities in the tri-state area for over thirty years with a cleaning method that is tried and true. Through years of research, we've found that no specific additive product alone can provide results like the removal of each stain by hand, prior to wash cycle. According to the Center for Disease Control, this intensive spotting process is strongly recommended and essential to the fabrics cleanliness. As well as it ensures that all visible stains are removed upon returning and hanging your curtains or draperies. Therefore your curtains/draperies are spotless, just like your reputation as a clean facility. There are many other companies that say they are the best, but we let our results do the talking.  

The Benefits of our service compared to in-house cleaning

Not only can On Site Drapery Cleanings' service increase patient confidence by maintaining stainless, sanitary curtains, but it can prove to be an economical alternative to in-house laundry.  It takes an EVS member an estimated average of 2-3 hours to remove a curtain, clean and rehang. In those same 2-3 hours, our team can service entire floors. Our Comprehensive service provides an efficient, cost-effective approach to handeling your privacy curtain issues. 

  During a  hospital stay, a patients' room should be a place to find comfort and cleanliness.  Just as you wouldn't leave the linens unchanged, or the floors unmopped, nor should you allow spotted and stained cubicle curtains to surround your patients' beds.

  Clean surroundings give patients confidence in the healthcare they are recieving.  Stained cubicle curtains may cause patients, and visitors, to question the infection control standards your staff works hard to maintain.

  Curtains washed by in-house laundry machines or traditional linen cleaning services seldom come back unstained.  With an unsurpassed cleaning method and a firm commitment to meeting your high standards, only one company can produce professional results every time.

On Site Drapery Cleaning Inc.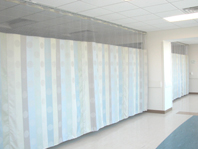 Fabricaide solves the problem of harmful microbial contaminents like bacteria, growing on your curtains, and allowing them to transfer to other surfaces or people.  Fabricaide leaves  behind an invisible, non-toxic, hypoallergenic          anti-microbial coating on all fabrics.

    -  Proven clinically to fight the growth of fabric              bacteria, fungi and mold

    -  Prevents odors, staining and deterioration

    -  One application lasts at least 90 days

    -  EPA Registered and Approved

This revolutionary antimicrobial solution, when companied by our aggressive "spotting" removal process of stains, ensures 99.9% cleanliness on all your materials .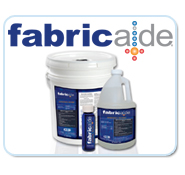 "Disinfectant/detergent formulations registered by EPA are used for environmental surface cleaning, but the actual physical removal of microorganisms and soil by wiping or scrubbing is probably as important, if not more so, than any antimicrobial effect of the cleaning agent used."

-  Guidelines for Environmental Infection Controlin Health-Care Facilities as per reccommedations of CDC (Center for Disease Control) and HICPAC (Healthcare Infection Control Practices Advisory Committee) 2003.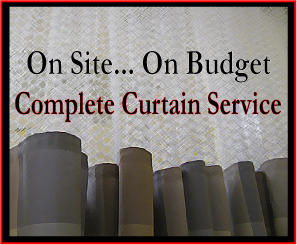 "We are dedicated to providing exceptional service"






Click here to see one of our recently completed projects!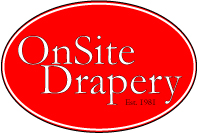 On Site Drapery Cleaning Inc.

Family Owned and Operated since 1981.

"The Drapery and Cubicle Cleaning/Installation Specialists".





Copyright 2010 On Site Drapery, Inc.

Click here to view our brochure!